Console Repairs Birmingham
Thanks to Gamesmart for fixing my console, I was so worried it would end up as a brick but you guys rescued me!
Console repairs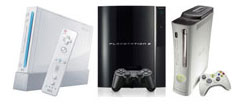 Our experienced engineers can fix most types of faults with your game console or laptop and at a very competitive cost! We repair a wide range of consoles including PS3, Xbox 360, Nintendo Wii, DS and PSPs. We can even repair ipods and tablets. We specialise in hardware and software faults such as Xbox 360 Red Ring of Death, PS3 Yellow Light of Death, Laser faults, Laser Replacement and power supply faults.
Playstation 3 repairs
Console not powering up
Jammed discs in tray
YLOD: console not working
Yellow LED light glowing
Xbox 360 repairs
Console not powering on
Console not reading discs
Red lights glowing on console
Disc jammed in console
Tray not opening correctly
Nintendo Wii repairs
Disc jammed in tray
Console not powering up
Nintendo DS/3DS repairs
Console does not power up
Top/Bottom screen damaged
Broken hinge
PSP repairs
Broken screen
Control keys not working
No power
Laptop repairs
Data (information) recovery/retrieval
Power faults
Software installation and faults
Password recovery/removal